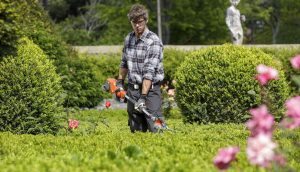 Top Quality Commercial Lawn Care & Commercial Mowing Service in Tulsa OK
As the old saying goes, you only get one chance to make a good first impression. Your commercial lawn and gardening is the first thing your customers see when they visit your office, commercial building, church, restaurant, or other place of business in Tulsa and the surrounding areas. A properly manicured lawn, shrubbery, flowers, and gardening are important to making that great first impression. Tulsa Weed Control & Lawn Care will make sure your beautifully landscaped commercial property communicates to your customers that your company values excellence and takes pride in a job well done. Between our excellent service, customer satisfaction guarantee, and competitive pricing our commercial lawn care service is hard to beat! Contact us today for a free quote at 918-416-6915
Commercial Weed Control, Commercial Landscaping Tulsa, Glenpool, Claremore, Broken Arrow
Whether you're in the market for weed removal, commercial landscaping, retaining wall installation, aeration, overseeding, or fertilization services, Tulsa Weed Control & Lawn Care can do it all!
We understand the importance of your business landscaping and commercial gardening. At Tulsa Weed Control & Landscaping, we take pride in bringing the very best in commercial lawn care, weed control, and fertilization services to our commercial customers in Tulsa, Glenpool, Claremore, Broken Arrow, Bixby, Catoosa, Coweta, and the surrounding areas in Oklahoma. We have satisfied clients all over Tulsa County, and are happy to provide references if you'd like to check us out before hiring.
Experienced Lawn Care & Grass Cutting Pros for Small Business, Restaurants, Churches, Schools & More
Tulsa Weed Control & Lawn Care offers full-service commercial lawn mowing on a weekly basis. When you hire us to mow your grass at your commercial property, whether it's a government property, school, church, restaurant, strip mall or office building, we will get it done regularly and on time.
Do you have a problem with weeds in your lawn? Our patented weed control treatment will have your turf looking lush and green. Do you need help with professional fertilization services? Our scientific approach to fertilizer application is carried out by our highly experienced lawn care and fertilization pros.
Outstanding Commercial Lawn Care Services in Tulsa OK
Your grass, garden, and landscaping will never look better when we're done! If you'd like to get a quote on a lawn service plan for your commercial property, please fill out the form on this website and we will contact you to provide a free estimate for lawn care services. No job is too big or too small! Whether you're a small business owner with a single location, or a franchise with a number of commercial locations around Tulsa we would love to speak with you about commercial lawn care and commercial landscaping services today. Please fill out the form on this website or give our friendly commercial lawn care professionals a call at 918-416-6915